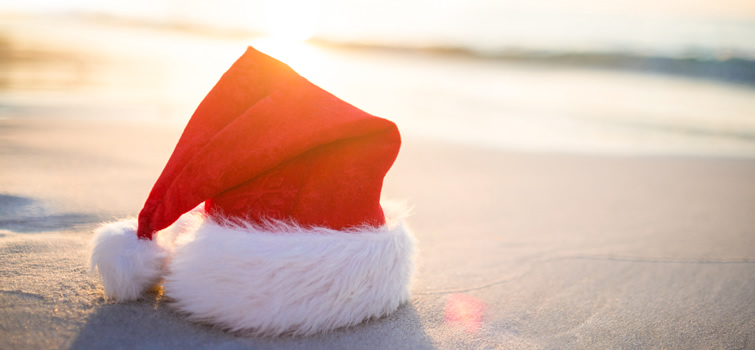 For many of us, Christmas is all about spending time with loved ones, enjoying good food and unwinding.
What if you could have all that with a big dose of sunshine as well? Well, you can at Castles in Paradise Villa Resort.
At our very special villa resort on the warm and welcoming island of St Lucia you could enjoy a uniquely special Christmas feel and flavor with the very welcome addition of beach, sun and fun.
So this year, instead of shivering in the cold, why not head to tranquil Castles in Paradise Villa Resort?
Our spacious villas are perfect for a special Christmas vacation with your loved ones.
Christmas in St Lucia is traditionally spent tucking in to a special lunch on 25th December which may include turkey, ham, pork or lamb with sweet potato, finished off with desserts such as black fruit cake made with nuts, ginger and fruits which have been soaked in wine or rum over several months, all washed down with a drink made from sorrel and spices such as clove and nutmeg with (or without) sugar.
So, why not keep it traditional and prepare your own St Lucian-style Christmas lunch in the privacy of your own villa at Castles in Paradise, each of which features a fully equipped kitchen?
Or, if you would rather stay as far away as possible from the kitchen on Christmas Day, head out to one of the range of restaurants we can recommend which can do all the hard work for you so you can just sit back, relax and enjoy a festive meal.
For those who would prefer to spend the day being more active, you could head to Sandy Beach (which is just 5 minutes from Castles in Paradise) and spend the afternoon swimming in the warm ocean or trying your hand at water sports such as windsurfing or kitesurfing.
So, however you'd like to spend the big day, it's your Christmas your way in St Lucia.
With Christmas just around the corner, why not book a last minute vacation in St Lucia and enjoy the festive season at Castles in Paradise…?